Qualitätssicherung
Since the founding of the company is the quality of your products and our services in the first place of our overall business objectives.
Quality and reliability are not only important for externally-reaching products or services of the company, but they are also of fundamental importance for all internal areas and levels. The quest for continuous improvement is in consensus with the certification IS / TS 16949:2009.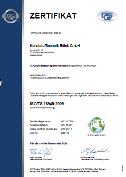 Our quality care are high-quality measuring instruments and testing and, in our ERP software, integrated CAQ system. The optical 3D CNC controlled coordinate measuring machine sets new standards for the measurement of the products.
Permanent checks and monitoring the capable of manufacturing processes in ensuring compliance with customer requirements.
Certificate |PDF|